Xiang Chen
I love geometry and physics 🍺
515, Mengminwei Building
Dept. of Computer Science
Zhejiang University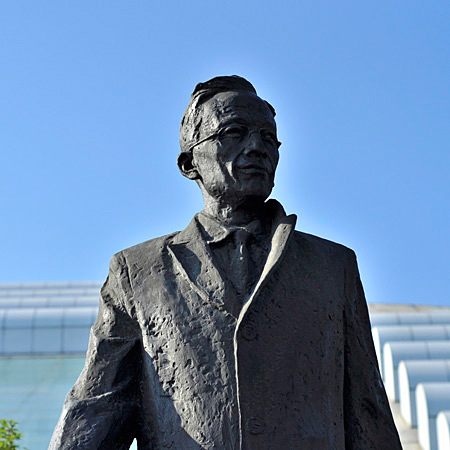 About Me
My name in Chinese is 陈翔, where 翔 means soaring in the sky.
I am an associate professor at the State Key Lab of CAD&CG, and a Qiushi Young Scholar with Zhejiang University. My research interests include physics-based simulation, shape modeling, image manipulation, and computer-aided design. I'm looking for self-motivated students, especially those with strong CS/Mathematics/Physics background. Feel free to drop me an email if you are interested.
I received my Ph.D and B.Sc. from Computer Science College and Cho Kochen Honors College of Zhejiang University, respectively. I was a visiting scholar in Computer Graphics group (C2G2) at Columbia University, and a visiting student in Geometric Modelling and Scientific Visualization (GMSV) Center at KAUST and Data Intelligence and Tools (DIT) group at Microsoft Research Asia.
Publications
GCN-Denoiser: Mesh Denoising with Graph Convolutional Networks
Yuefan Shen, Hongbo Fu, Zhongshuo Du, Xiang Chen, Evgeny Burnaev, Denis Zorin, Kun Zhou, Youyi Zheng
ACM Transactions on Graphics 2021
[pdf] [code]
Human Bas-Relief Generation from A Single Photograph
Zhenjie Yang, Beijia Chen, Youyi Zheng, Xiang Chen, Kun Zhou
IEEE Transactions on Visualization and Computer Graphics 2021
[pdf]
Real-Time Hair Simulation with Neural Interpolation
Qing Lyu, Menglei Chai, Xiang Chen, Kun Zhou
IEEE Transactions on Visualization and Computer Graphics 2020
[pdf] [video]
Learning Color Space Adaptation from Synthetic to Real Images of Cirrus Clouds
Qing Lyu, Minghao Chen, Xiang Chen
The Visual Computer 2020
[pdf]
NNWarp: Neural Network-based Nonlinear Deformation
Ran Luo, Tianjia Shao, Huamin Wang, Weiwei Xu, Kun Zhou, Yin Yang
IEEE Transactions on Visualization and Computer Graphics 2018
[pdf] [video] [code]
Automatic Synchronization of a Feature Model with Direct Editing based on Cellular Model
Jun Fu, Xiang Chen, Shuming Gao
Computer-Aided Design and Applications 2017
[pdf]
Support-Free Interior Carving for 3D Printing
Yue Xie, Xiang Chen
Visual Informatics 2017
[pdf] [video]
Example-Based Subspace Stress Analysis for Interactive Shape Design
Xiang Chen, Changxi Zheng, Kun Zhou
IEEE Transactions on Visualization and Computer Graphics 2016
[pdf] [video] [slides]
Deployable 3D Linkages with Collision Avoidance
Changxi Zheng, Timothy Sun, Xiang Chen
Best Paper Award of SCA 2016
[pdf] [video] [project page]
View-Aware Image Object Compositing and Synthesis from Multiple Sources
Xiang Chen, Weiwei Xu, Sai-Kit Yeung, Kun Zhou
Journal of Computer Science and Technology 2016
[pdf] [video] [slides]
Continuous Optimization of Interior Carving in 3D Fabrication
Yue Xie, Ye Yuan, Xiang Chen, Changxi Zheng, Kun Zhou
Frontiers of Computer Science 2016
[pdf]
An Approach to Automatic Adaptation of Assembly Models
Wanbin Pan, Shuming Gao, Xiang Chen
Computers in Industry 2016
[pdf]
Automatic Shape Adaptation for Parametric Solid Models
Wanbin Pan, Xiang Chen, Shuming Gao
Computer-Aided Design 2015
[pdf]
An Asymptotic Numerical Method for Inverse Elastic Shape Design
Xiang Chen, Changxi Zheng, Weiwei Xu, Kun Zhou
ACM Transactions on Graphics (SIGGRAPH 2014)
[pdf] [video] [slides] [project page]
A Framework for Collaborative Top-Down Assembly Design
Shuming Gao, Shuting Zhang, Xiang Chen, Youdong Yang
Computers in Industry 2013
[pdf]
A Deep Learning Approach to the Classification of 3D CAD Models
Feiwei Qin, Luye Li, Shuming Gao, Xiaoling Yang, Xiang Chen
Journal of Zhejiang University SCIENCE C 2013
[pdf]
Interactive Images: Cuboid Proxies for Smart Image Manipulation
Youyi Zheng, Xiang Chen, Ming-Ming Cheng, Kun Zhou, Shi-Min Hu, Niloy J. Mitra
ACM Transactions on Graphics (SIGGRAPH 2012)
[pdf] [video] [project page]
A Flexible Assembly Retrieval Approach for Model Reuse
Xiang Chen, Shuming Gao, Song Guo, Jing Bai
Computer-Aided Design 2012
[pdf]
Multi-level Assembly Model for Top-Down Design of Mechanical Products
Xiang Chen, Shuming Gao, Youdong Yang, Shuting Zhang
Computer-Aided Design 2012
[pdf]
Feature Suppression based CAD Mesh Model Simplification
Shuming Gao, Wei Zhao, Hongwei Lin, Fanqin Yang, Xiang Chen
Computer-Aided Design 2010
[pdf]
Assembly Retrieval in Top-Down Product Design
Xiang Chen, Song Guo, Jing Bai, Shuming Gao
ACDDE 2010
[pdf]
The Skeleton in the Multi-level Assembly Model for Top-Down Innovation Design of Mechanical Product
Xiang Chen, Shuming Gao, Youdong Yang, Shuting Zhang
PLM 2009
[pdf]
Agent based Variation Propagation for Collaborative Top-Down Assembly Design
Shuting Zhang, Xiang Chen, Shuming Gao, Youdong Yang
ASME IDETC/CIE 2008
[pdf]
A Framework for Collaborative Top-Down Assembly Design
Shuting Zhang, Xiang Chen, Shuming Gao, Youdong Yang
ASME IDETC/CIE 2007
[pdf]
Process Modeling of Top-Down Collaborative Assembly Design based on Petri Net
Youdong Yang, Shuting Zhang, Xiang Chen
CAD&CG 2007
[pdf]
A Web Service for Exchanging Procedural CAD Models between Heterogeneous CAD Systems
Xiang Chen, Min Li, Shuming Gao
Lecture Notes in Computer Science 2006
[pdf]
A Divide-and-Conquer Algorithm for Machining Feature Recognition over Network
Shuming Gao, Guangping Zhou, Yusheng Liu, Xiang Chen
ASME IDETC/CIE 2005
[pdf]
Teaching
Fundamentals of Data Structures
Object-Oriented Programming in C++
Hobbies
Reading, Traveling, Photography, NBA, RTS-games